MEDIA SOURCE: ABC Capricornia by: Tobias Jurss-Lewis
Perfect waves year-round, scuba diving and luxury accommodation; it is a local man's vison for Yeppoon that he hopes will transform central Queensland's surfing culture.
Aaron Trevis's Surf Lakes site has already attracted attention from the likes of Mark Occhilupo for its wave-making technology.
The company's latest development application expands that vision to transform the site with boutique accommodation, a scuba pool, an aquapark and campgrounds to create "the ultimate surf getaway".
Economic predictions have claimed the finished product will bring $39.4 million to the region each year.
Local tourism and development group Capricorn Enterprise said the development would fill a gap in the regional market.
Key points:
Surf Lakes has lodged a development proposal to create "the ultimate surf getaway"
The development involves accommodation, a scuba pool and other leisure centres and is slate to bring $39 million to the region each year
A local tourism and development group says the expansion could bring a new wave of tourists to the region
Redefining surf culture
A keen surfer, born and bred in Yeppoon, Mr Trevis said he learned to surf at Farnborough Beach in Yeppoon but reached a stage in his life where local breaks just did not cut it.
Surf Lakes wave pool creates five levels of waves ranging from beginner to professional.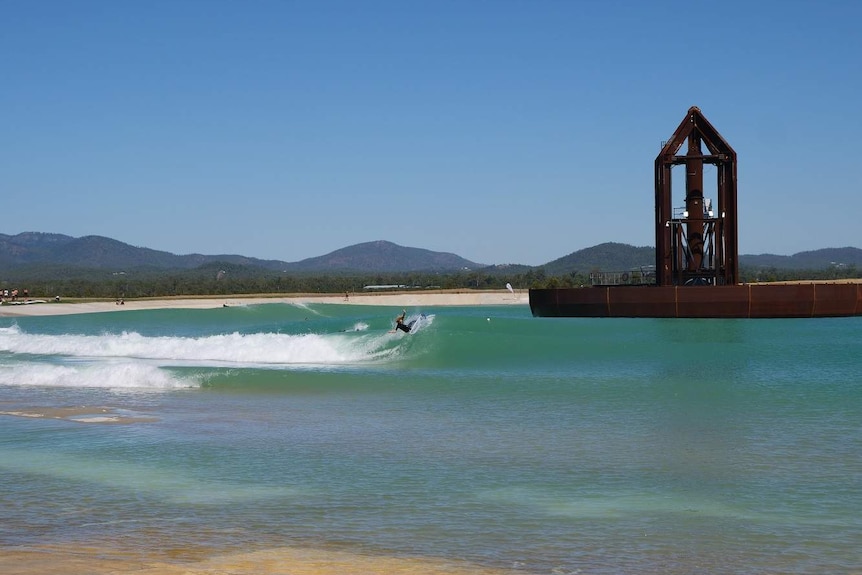 Seq Q Boardriders president and local surfer Mark Korotcoff said the group was excited about the proposal.
"We always like to surf in the ocean but as we know the ocean doesn't always cooperate," he said.
"Having a wave pool and being able to access that on a regular basis definitely is going to help young surfers improve and keep everyone else happy when there's no waves in the ocean."
Tourism potential
Mr Trevis said Surf Lakes also had eyes on an international market and was packaging travel deals for surfers who go overseas.
"You could bring the family up as well … everyone gets waves of their ability," he said.
"It means you can have a genuine family surfing holiday where everyone wins.
The studies indicate that it could be the biggest thing in tourism for the Capricorn Coast."
Economic modelling suggests that stage one would generate $22.4 million each year by 2026.
Stage two is expected to increase that output to $39.4 million and support 229 jobs by 2031.
The chief executive of regional tourism and development organisation Capricorn Enterprise, Mary Carroll said, if approved the development could attract a new group of tourists to the Capricorn Coast.
"Wave pools all around the world have attracted a new clientele or visitor market," she said.
"This is absolutely what would happen in this destination, whereby this wave pool would attract visitors not just domestically but internationally.